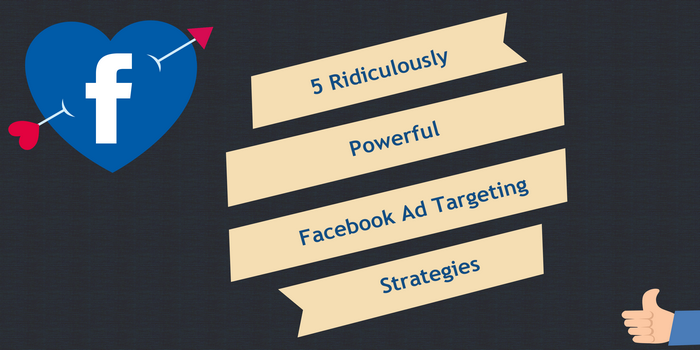 You can segment your audience on Facebook using more than a dozen different advertising formats and thousands of parameters.
By managing your own strategy of targeting at times you need to pay attention to the very specific but extremely motivated audience segments on Facebook. Attention to detail is quite justified: the Americans, for example, fanatically spend around 40 minutes on Facebook every day! Here are some surprisingly simple and powerful strategies for segmenting audiences on Facebook which you probably have not heard of.
1. Use Behavior Patterns Of Audience
At first, Facebook was criticized for the fact that the social network had a purely entertainment focus giving users a little room for commercial development. Everything has changed in 2013 when Facebook started cooperating with companies that supply data. Epsilon, Acxiom, Datalogix have access to information on the trillions of transactions performed annually.
Acxiom management stated that their database contains information on 500 million active customers from all over the world. Each of them can be characterized using 1500 parameters.
Suddenly Facebook became aware of almost everything about you. Are going to get married, play your favorite online game or read bloody detectives? Probably, Facebook knows this.
This information gave advertisers the ability to segment the audience more carefully, going beyond their own capabilities. Now they can improve their advertising strategy using the information gleaned, for example, from the loyalty programs of individual stores. Advertisers can use thousand factors influencing behavioral strategies to segment audiences when promoting goods and services on Facebook.
How should be behavioral strategies of people specificated? They can be divided into subcategories: profiles of customers, their preferences in clothing, food, relation to the industry of beauty and health. Within each subcategory you can dig deeper and identify certain types of behavior. There you may find fashionistas, lovers of crafting, fans of healthy food.
Facebook shows how many user profiles can be targeted in each sub-category based on the data collected on the basis of users' off-line transactions.
The possibilities are not limited. One has only to start using it.
2. Experiment With Event Targeting
Some types of business and advertising campaigns aim to sell their goods and services to people who are experiencing certain events. For example, funeral companies would like to talk directly to the audience, who expect upcoming funeral, including the fatal cases, as well as those who is separated from a loved one by death. Companies, organizing moving are interested in those who just bought a house or apartment. Wedding photographers would like to appeal to couples who are engaged.
Facebook closely follows the events in the life of users - once they post information on their webpage the social network immediately detects this fact.

Event-related parameters are unique. They allow you to segment your audience for a long period of time, because the status of the people will change. Jewelry company will certainly be interesting to remind the newlyweds about a year after the wedding when they are ready to celebrate their first anniversary. To do this, the company can choose the target audience as members of Facebook who was as newlyweds a year ago. The time interval can be changed between three months, six months or a year.
3. Cultivating Leads And Increasing Loyalty By Using Facebook Custom Audiences
Facebook Custom Audiences is an advanced tool that allows you to appeal to people from an existing list of contacts through the social network. Appealing to the audience of the company, users of mobile applications through their favorite social network will allow you to show yourself in a good light, increase the value of each customer, frequency of orders and increase the loyalty of the audience.
This mechanism can be used in the reverse direction. You will increase the effectiveness of the campaign and reduce the cost of its implementation, eliminating clicks of existing customers. If the advertising campaign offers the possibility to try the new product for free, it is not needed to show the ad to those who is already using this product or service.
You may create your own Facebook Custom Audience by uploading the list of customers' contacts to Facebook. This may be a list of phone numbers or email addresses in .CVS or .TXT formats. Your own audience can be formed based on the website visits or even its individual webpages. The reason for this formation may be certain actions that the user performs in a mobile app or game.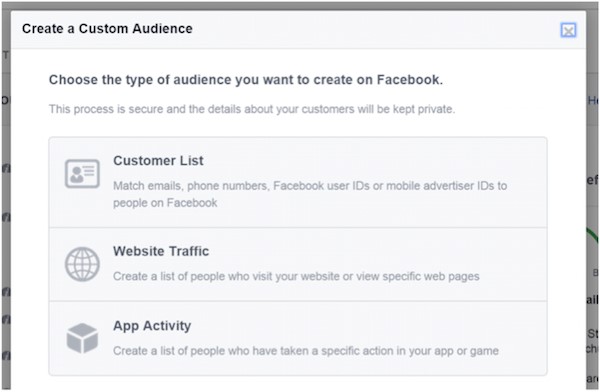 Make segmentation, eliminate the whole list or its parts by selected parameters and create your own ideal audience.
It is surprisingly effective! You may segment the existing clients by their profession, income and even region of residence if these parameters are important for evaluating the adherence to your company.
Those who visited your website, blog or proposed to promote your product can be targeted the same way. These people already know you, they were interested in contact, but it failed. Advertising on Facebook aimed at this segment of the audience will reduce the gap between you and your customers.
Try countless demographics criteria as well as combinations thereof. You can estimate the audience of Facebook in terms of marital status, geographic location, interests, and so on.
4. Refer To Lookalike Audience More Often
Lookalike audience is the next step for those who are able to create their own Custom Audience. Even if you do not have your own list of phones or email addresses, try to find people who have characteristics similar to those of your followers on Facebook. So lookalike audience helps to extend the reach of the users, preserving needed characteristics.
Likewise those who do not have a large number of followers can be guided to create Lookalike Audience by the characteristics possessed by the website visitors.
Having defined the expanded audience, you can make it wider. Facebook helps you to find the 1 percent of the users in selected country with similar characteristics. Conversely, you can narrow the audience so Facebook will show an advertisement to only 10 percent of the audience specified whose characteristics are as close as possible to your target audience.
5. Make Segmentation More Precise Including Several Targeting Directions
The apparent advantage of Facebook is the possibility of layering multiple destinations of targeting upon one other, making the audience more narrow and specific. The situation can be reduced ad absurdum: one marketing professionals chose his neighbor as the target of advertising. Poor neighbor decided that he was haunted by hackers.
Use different combinations of behavioral, demographic and geographic parameters to narrow your target audience. As the example above, it can be reduced to one person. The use of this tool is obvious - in case of combined data, you should be able to create a specific offer that suits the interests of the audience to the maximum.

For example, a company that organizes moving offers seniors additional discounts for their services. Its promotional efforts should be focused on the users over the age of 60 years old who recently bought a house and live in the area served by the company.
The stores that sell children's products for soothing a crying baby, should pay attention on young parents who buy remedies for stomach cramps as babies often suffer from it. Just imagine - you can appeal directly to the parents who spend sleepless nights next to a crying baby and offer them a solution to their problem.
If you understand the goals and needs of each audience segment, use the power of the impact targeting offered by Facebook. Appeal to specific people.
Conclusion
Build your advertising strategy on Facebook using all the possibilities for targeting which are provided by social network. No need to be focused on one of the strategies listed above. Check each of them in action and see whether it is suitable for your specific goals in the market.
Create images of your ideal customers. Who are they? Where do they live? Where do they work and what are they doing in their free time? What are the characteristics they have and how those characteristics relate to those parameters that are discussed in this article?
You decide who you want to appeal to and the methods of segmentation offered by Facebook which can help you paving the shortest way to your customer.