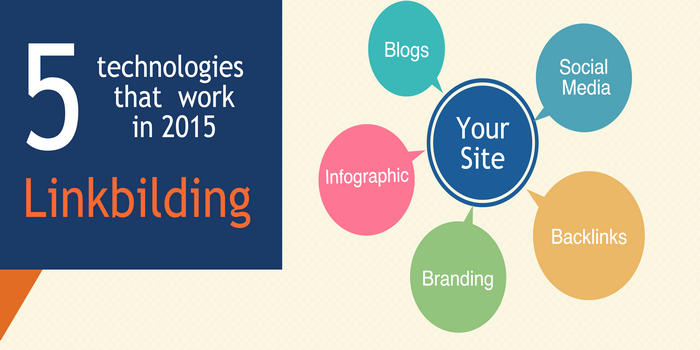 Experienced SEO marketing experts know that link building is an important part of the promotion. But this tool can be very dangerous in the hands of inexperienced person.
For someone link building is a synonym of spam, the black technology of SEO-promotion, so popular in the past. But high quality links today strongly influence the position of a website in search results. And if a search engine (e.g., Google) detects abuses in link building, it may indeed apply penalties.
What technologies of link building can be safely used in 2015? There are some recommendable and fully legitimate options. Here are the 5 of the most popular ones.
1. Guest Blogging
Like any other technology, guest blogging should be used carefully. The head of Google web spam team – Matt Cutts said that many openly abuse guest blogging, turning it into a frank spam. Google condemned some popular blogs in this and probably will steadily continue monitoring the activity of bloggers.
But in this case, guest blogging is an effective tool of link building. The objective of a blog is generating quality content, useful and interesting for wide audience. Blog owners encourage its creation, but the purpose of blogging is not a blind link exchange, but attracting the attention of the audience who reads the materials posted in blog. Of course, if you have timely articles that are relevant to the topic, the probability of obtaining authorization for the "white" link is quite high.
If your colleague is well able to express his/her thoughts, try to interest him (or her) with a guest blogging. The more people are involved in this process, the more your company will benefit.
2. Creating Infographics
Is it correct to think that infographics is an effective method of link building? On the one hand, many people speak of underperformance of the method. Until 2012, the effectiveness of infographics wasn't doubted. It made a significant contribution to the promotion of Internet resources. Today, its effectiveness in terms of link building fell by half. But that is not a reason to abandon infographics. Firstly, it remains useful for the audience and secondly, it still brings the backlinks, albeit not as many as three or four years ago.
3. Activity In Social Networks
Creating unique content is only halfway to success. The second component of a competent Internet marketing strategy is promotion of created content. In 2015, the most effective channel for such promotion is social network.
When there is interesting information for social network audience, people are instantly involved into discussion, click "like" button, share pictures with friends. By promoting content in such a way, you are sure to receive links to it.
Activity in social networks is a lot more than a couple of minutes spent on Twitter or Facebook. Being active means:
posting links to your articles in all the social networks where your account is;

providing with links in those communities in LinkedIn, where your membership is important;

о

sending your messages to Reddit, StumbleUpon, GrowthHackers.com;

posting or providing with links to those people who have been mentioned in your article.
Of course activity in social networks is not directly focused on link building strategy. Materials provided herein do not have the same weight as the links do. But if people are interested to read your materials and share them with friends, the link weight will increase. No need to ask for retweets if the material is really interesting, people will share it on their own hook. To make it happen, be active in social networks and offer the audience new articles and materials.
Let's look into the effect of a social network traffic growth in details:
For example, you can use the BuzzSumo service, which shows the most discussed topics from Search Engine Land. Here are the top three results.
It is seen that:
The first article is shared 15172 times.
The second article is shared 10318 times.
The third article is shared 8868 times.
Now, how these social signals should be transferred into backlinks?
The first article has 18,310 backlinks from 1456 domains.
The second has 5017 backlinks from 461 domains.
The third has 2626 backlinks from 385 domains.
There is a direct correlation between the number of shares and the number of backlinks.
Many SEO experts state that you need to earn backlinks. Nevertheless don't hope that once good content will bring traffic itself. You must be active in the promotion of your content!
Keep in mind that there is no need to ask for retweets and shares. If your content is good enough, people will share it anyway.
4. Direct Request To Place Backlinks
It may seem immodest or even inappropriate, but a direct appeal with a request to put a backlink is a simple and effective way of link building. There is no shame to tell the owner of the other website about mentioning his company in an Internet resource in one of your materials. Practice shows that the probability to get a backlink to the article is large enough. After all, it can actually lead readers to another useful website. In a similar way, you can appeal to a person who you know personally or complete strangers.
If a company has a certain weight in professional community, it will be much easier to contact strangers in this way. Someone will believe that you met at an industry conference or, perhaps, that your name flashed on the list of speakers at the event. All this creates the effect of recognition, although in practice people really never met. Over time, these connections become stronger and increase the credibility of your content. People will refer to them by their own initiative
5. Brand Development
Link building is a long process. Trying to speed up link building, you can become an object of attention by search engines and get under their penalties. Use all possible channels for promotion: social events, press and the Internet. It takes some time, but when the interest to your company breaks out, it will be much easier to support it. In proportion to the growth of brand awareness, the link weight will increase as well.
Conclusions
2015 can be called the beginning of a new era of link building. Although it became more difficult to get links, their significance is still large. It is impossible to raise the website in search engines, without making sure that it contains high-quality links. To make this happen, use the technologies listed above.