Do you remember SEO "facts" that we used to believe as the monopoly on the truth? That the only right way is selecting keywords and growing the link weight. However, years of practice have proven that the ranking score is not the only thing that affects the results in a search engine. And paid ads are not the only way to the top.
Today there are a lot of myths like that. So it's time to dispel some of them. Here are some SEO myths that exist nowadays. It's easy to prove their irrelevance once we take a look at the actual data. The SimilarWeb team has been a tremendous help in collecting it.
Myth №1. SЕО Is More Important Than The Brand
To dispel this myth, let's take a look at the global traffic distribution in different industries, as well as at the overall traffic in all industries altogether. In some spheres direct traffic is actually the leading source in comparison with other traffic sources (including SEO). However, in other cases transfers from search results take the lead. This is exactly what takes place in tourism and shopping industries, where consumers' habits are affected by different factors. Compare this data with that from the financial and media sectors – in those categories people know precisely, which brands to trust.
All categories

Shopping
News and Media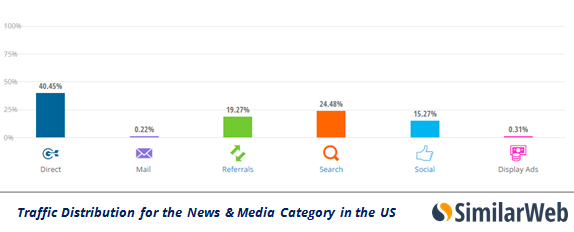 Travel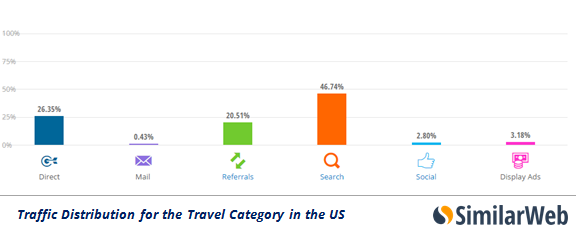 Finances

Conclusion: the myth is practically dispelled. Naturally, SEO is important, but strong positions of the brand are just as important. And this stays true regardless of the industry we're talking about.
Myth №2. Contextual Ads Can Exponentially Increase SEO Traffic
To verify this statement, let's compare five website from the same industry, targeted at the same market. It's sufficient to compare traffic from contextual ads with the organic (non-paid) traffic to see how they correlate.
Here's the share of each of 5 websites from the overall traffic point of view:
And here's the comparison of non-paid and paid traffic to these websites:
While BestBuy has the biggest share of the paid traffic to their website, it still amounts for merely 1/5th of all the transfers to that webpage.
One may think that these categories shall not be compared to each other. Well, we can go even further and take a look at paid and non-paid traffic to these websites for the period from August 2014 to January 2015. Here we can see an interesting pattern: peak of paid traffic for Amazon and eBay in September took place simultaneously with the decrease in their organic traffic. And vice versa, the growth of non-paid traffic in December decreased the number of paid transfers. Similar situation took place with the Target website.
Conclusion: the myth is dispelled! Looking at the numbers one can confidently say that paid traffic doesn't necessarily lead to the growth of non-paid traffic.
Myth №3. Social Media Affect The Non-Paid Traffic
To research on this matter, let's take a look at 4 competitors on the child clothing retail market. Does the traffic from social media provide for the growth of organic traffic from search results? Apparently, the BabyVote website is a clear leader in social media traffic. But it's positioned in the end of the list by the volume of non-paid traffic.
Social Media Traffic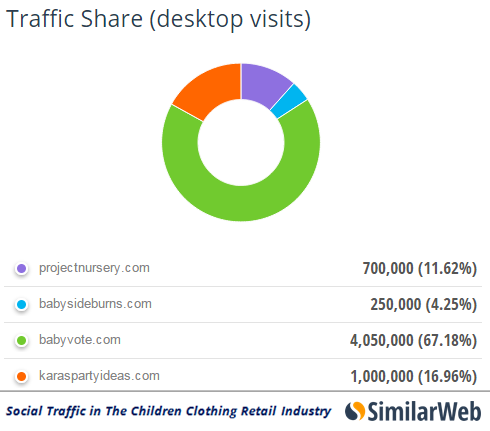 Organic Traffic
Conclusion: the myth Is dispelled! If a website has good social media traffic, it doesn't necessarily mean that it's organic traffic is growing.
Myth №4. Long Key Phrases Are More Important Than Short And Precise Ones
This is a hot discussion topic and it seems like the statement has its logic. To determine the truth let's compare keywords of 4 leading online stores that actively participate in SEO promotion and enjoy solid non-paid traffic from search results.
In this research we've considered the key phrases as "long" if they had over 20 characters (including spaces). Results of the study seem unbelievable. Short key phrases that precisely match the query have definitely been undervalued. They provided for most transfers to websites studied.
Conclusion: the myth is dispelled! The table above clearly shows the importance of short key phrases.
Myth №5. Number Of External Links Is Not As Important Nowadays As It Was In The Past
Is it really so? To check the facts, let's make a comparative analysis, researching two websites from each of the following industries: banking, HR and shopping (clothes retail). Apparently, the search traffic in each sector is higher for the website that accumulated better linking weight. The quality is assessed from the point of view of links themselves and reference domains, citation flow and the Majestic SEO trust flow.
For example, Livecareer.com only has 20% of the overall share, while Beyond.com holds on to impressive 80%. However, if we look at the traffic from search queries, Livecareer.com is aheaahead. Website professionals did a good job in link building. Similar situation is apparent in financial and retail sectors.
Conclusion: the myth is dispelled! Actual numbers clearly show that it is essential for every web source to accumulate the link weight.
Summary
Study of 5 popular SEO myths by looking at actual facts has shown that almost all of them are merely myths, including the statement that SEO is more important than the brand. Conclusions were made based on hard numbers, which accuracy is beyond doubt.
Naturally, it's essential to approach the problem wider and deeper to make a more in-depth analysis, and to collect more data. However, even the analysis provided in this article clearly shows the tendencies that will only be further supported as a result of the more in-depth study of SEO myths.