In spite of all the spectacular opportunities that contextual advertising offers, it can end up being completely ineffective. In fact, one of the key reasons of such inefficiency is due to improper customization of a company. The following piece of writing shows the right approach towards customization and ways of dealing with frequently-encountered problems.
10 Principles Of Working With Context
If you follow these simple, but extremely useful, recommendations, you will find yourself capable of creating well-structured and highly-profitable contextual advertisements.
1. Analyze Your Market And Potential Client Base
If you are intended to develop your business, the first thing you have to do is to define your future customers. Having done this, you might be interested in conducting an Internet research and finding out how widely your clients are represented throughout the World Wide Web. There is a probability that your main customer is a 70-year old woman who doesn't know anything about computers. Well, in this case, contextual 'stuff' is not going to help you out.
Apart from this, it is pretty vital to understand whether the good you are offering is in demand. In order to get such information, you have to use the service called Google Keywords Planner. In a search bar, type the words that your potential customers will have to use to find your web-site. For instance, "flowers", "cars" or "computers".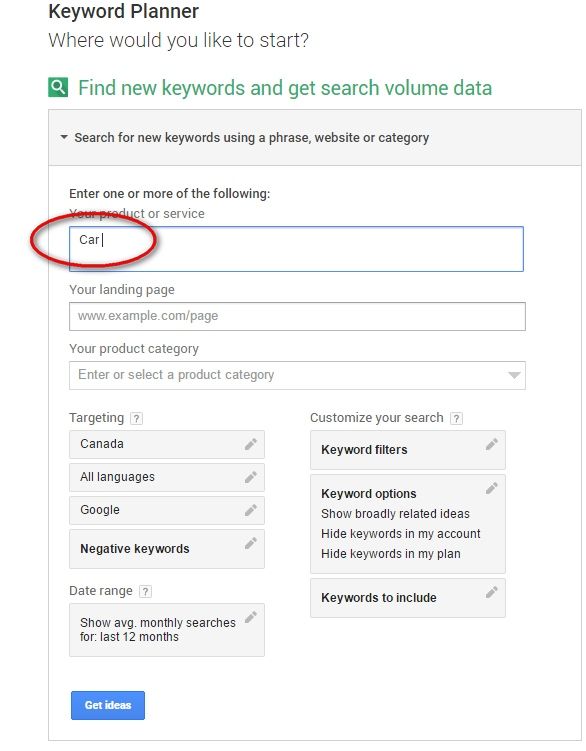 However, keep in mind that the mentioned words are too general. You might end up with electric cars, artificial flowers and old-fashioned computers. To avoid this, you have to know how to search for concrete information. Following signs will ease your struggles:
Inverted commas – "/" will make system show statistics related only to a specific phrase ("flowers for sale")
Minus sign will make it clear that some words have to be excluded (flowers – in pots)
Plus sign will take conjunctions and prepositions into account (flowers+from+felt)
Exclamation point will enable you to get results for precisely-defined phrases (flowers for ! 8 March)
2. Study Your Competitors
Knowing what your business "enemies" are up to is tremendously crucial; it allows you to avoid their mistakes and, at the same time, learn something new from more experienced players in the field.
Therefore, it would be beneficial to use a search engine (Bing, Google) and type in the words linked with your business. Having received some results, study top-20 companies that engine gave you. While looking through, examine their advertising methods, web designs, advantages, and significance. Outline their weak and strong sides; use this information to refine your business.
3. Develop Your Advertising System
Taking a domestic market into account, the key players stay the same: Bing Ads and Google AdWords. You may choose one of them if there is a strong belief that your potential customers prefer a particular search engine. In addition to this, your final decision may dependent on a given budget (contextual ads that Google offers are slightly cheaper).
However, a vast majority of specialists urge to use both services. To be effective, you will have to constantly analyze the productiveness of this so-called "fusion". For an efficient cooperation with both services, you will have to connect the feature of "automatic company management".
4. Outline Your Paramount Aims
In order to create a well-defined strategy, you have to set up specific goals and ways of their accomplishment.
Formation and maintenance of an image. One of the ways to attract the attention of "Internet- people" is to post creative and eye-catching banners. Keep in mind that this will definitely require some financial contributions.
Bear in mind the limitations of your budget. Think economically; the strategy of cautious, but effective advertising is the right choice.
Monopolization. Eliminate competitors and capture the biggest possible market share. If you follow this path, financial expenditures have to be unrestricted.
Arbitrage. This tactic's main aim is to increase the attendance of your web-site by attracting cheap traffic. Conventionally, such tasks are delivered by the companies that are engaged in redirection of traffic from their enemies to their partners.
Transfers. This method of contextual advertising is concerned with the simultaneous increase of your web-site's attendance and decline in effectiveness of other channels.
Clicks' value. The focus is on the lowest possible cost of redirection that allows gaining commercial profit. Analysis is based on the statistics of conversion and quantity of deals. Such method is frequently used by and highly suitable for e-shops.
5. Make A List Of Key Words
Needless to say, contextual advertising is not possible without the formation of typical requests; this is the basis for a future refinement. These words or phrases have to be directly related to the activity that a particular business is involved in. For example, "sale of flowers", "perfumes" and "SEO". However, the mentioned requests appear to be highly-frequent, which makes them extremely expensive. That's why we have to restructure them slightly:
Substitution by everyday language (SEO – the development of web-sites)
Use synonyms (accessories – extras)
Be more exact (name of brands and models)
Add "commercial" words (sell, sale, buy, purchase , rent)
Do not forget about "stop-words" that are related to the general scope of your activity, but have nothing to do with specifics; they have to be excluded. For instance, a company that sells fresh flowers has to make sure to avoid these words: "artificial flowers" and "in pots". If this is not done, potential customers will not be satisfied; they simply will not find what they requested for. Sequentially, this may result into a huge dissatisfaction of the search engine and implementation of sanctions towards your business.
6. Create A Banner
The scope of text is restricted by the number of symbols. Bing Ads, in particular, allows 33 symbols for a heading and 75 symbols for a main text; Google AdWords – 25 and 35 respectively. This means that you have to laboriously think about the content of your ad; otherwise, it will be just a waste of money. Also, it is important to pay attention to other restrictions; your ad may just fail the moderation.
Your message has to tell a story of your business; what it offers and represents. The eternal view of a banner has to be attractive; the "clickability" directly depends on this. Moreover, it is highly advised to use the following words: "sale", "for free" and "discount". Obviously, you have to keep track that all the promises are being made and clients do not leave dissatisfied.
According to the research conducted by Google, to increase the "clickability" of your ad by 50%, the information about delivery has to be included.
7. Set Up Your Landing Page
The main criterion for your ad is its correspondence. If you sell fresh flowers, your ad has to contain a link to the price-lists and types of flowers on offer. By clicking on the link, your potential client cannot be redirected to the page comprised of info about company's owners; it is simply inadmissible.
Having chosen your landing page, analyze its convenience and informational content. Do not forget that a landing page has to include an element that will induce buyers to act; for instance, "Place an order".
8. Work On Your Targeting
Targeting allows offering your ad to the people that comprise your potential client base. Firstly, it brings more conversion. Secondly, it helps lower advertising expenditures on the redirection of people who are on interested in your services.
In order to set up your targeting, pay attention to the following details:
Location of your ad (search engine or advertising platform)
"Geography" of your ad (region/country/city)
Time (at what time you want your ad to be more active)
9. Structure Your Advertising Company
In order to safe time and accumulate energy, the company should be divided into separate blocks that will be formed on the basis of peculiarities. For example, potential client base, "geotargeting" and advertising platforms.
Such division will ease the work with an inconceivable amount of data and help you not to get lost among this pile of advertisements. Also, if you advertise your company in many regions, it will restrain you from a great deal of financial expenditures.
10. Control And Analyze
Keep an eye on the rates of productivity of your contextual advertising; it appears to be one of the main tasks.
Statistics. Having detected the words that bring small or no traffic at all, get rid of them. Seek for new key words that will increase your "clickability".
Regularly take a look at the bets. Increase or decrease the price for a click depending on the market's "behavior"
Control "clickability". If you rates are going down, make needed corrections and develop the quality of ads.
Evaluate the conversion. If a current advertising company doesn't bring expected results, the time has come to implement some radical changes.
5 Problems Of Contextual Advertising And Their Solution
It can happen that your company is doing badly; even though you have been following the principles listed above. Don't worry. Any obstacle can be overcome; it just requires some time. We offer you the countdown of the most proliferated contextual problems and ways of dealing with them.
Your banner is not visible for public
As a rule, this problem occurs due to the shortage of money on your account. In order to avoid such problems in the future, you have to constantly keep an eye on the dynamics of your expenditures. The right way of targeting will help you eliminate this problem.
Also, low quality or bets may be among other reasons as well.
Well-structured banner will inevitably attract some attention of Internet users. The amount of clicks depends on the key words, which motivate people to take a look at your web-site, contact info and colorful design.
At first, it is important to check your key words, on which your contextual advertising is based. By using high-frequency intromissions, you waste a great deal of financial resources. Instead, try to pay more attention to average or even low-frequency requests.
Another thing that has to be checked is efficiency of the platforms, on which your advertisements are being published. Not each of them can turn out to be beneficial for you. Using Google Analytics, you may evaluate the productivity of those platforms. Lower the bets on those platforms that show the lowest efficiency.
Ads are located on low positions
Ads that are demonstrated on high blocks bring the highest possible amount of profit. In order to get to this point, you have to take specifics of the system into account.
Google AdWord, in particular, values the ratings of your context. The rating itself is dependent on "clickability", relevance, quality of advertising, and bets. Therefore, even if you increase the cost of one click, there is no guarantee that you will get your ads to high positions.
Bing Ads pays attention not only to CTR and qualitative coefficient, but to bets on one click. Moreover, the latter one will play a deciding role.
The first thing you have to do is to set up geographical and "clock-work" targeting, paying attention to the specifics of your client base. Otherwise, non-interested people will visit your web-site and buy nothing.
Secondly, exclude all the key words that have nothing to do with your business. For instance, for those who are engaged in providing the service of cars for hire, such words are "cars for sale" and "mechanics".
The last but certainly not least is the quality of your first page. Make sure that it has an ideal relevance to your web-site and requests. It has to provide all the information that your potential customers may be interested in. Also, there has to be a call for an action and ability for a buyer to perform this action.
In other words, if a man wants buy a belt, by clicking on the ad, he has to be redirected to a page containing price-lists and ways of belts' delivery.
Conclusion
Contextual advertising is a perpetually cyclical process that requires a constant attention. Thereby, from the very beginning, you have to prepare yourself for an assertive work.
At every stage of your company's development, you will have to keep track of effectiveness, react to sudden changes on the market and actualize the strategy of a gradual refinement.
If you see that current picture has nothing to do with what you planned to achieve, there is always a scope for corrective changes and elimination of mistakes. Subsequent and operational solution to everyday problems will inevitably benefit the productivity of your company. Hence, high conversion and sustainable profits will be just a matter of time.
If all your diligent efforts don't give the result that you have been aspiring to, it is worth turning to specialists; otherwise, you will only lower your chances to get to the top.