Make Your Home Page The Landing One!
Home page is probably the most visited page of your website. As a matter of fact, it gathers over 50% of total visitors for most sources. Therefore doesn't it seem that one shall use every effort in order to optimize the "home page" to attract even more visitors and potential customers?
To do so one shall take a closer look at their home page as a landing page that has a design and structure capable of convincing visitors that you can satisfy their needs and solve particular problems. If the home page of your website doesn't incite visitors to act in some way, especially if you witness high bounce rate, this means that it can definitely be improved in order to increase conversion.
3 Major Goals Of The Home Page
Depending on your company specifics, your home page may have various goals. However, there are three goals that every internet source shall aim to meet.
1. Identification With Visitor's Needs
Usually people visit a website to satisfy some need: either to solve a particular problem, to buy some product or to find some information. If they can't be satisfied that you can provide what they're looking fore in 5 seconds, they'll just leave. Therefore you message to the visitor shall be as transparent and obvious as possible. Don't force people into reading a paragraph about yourselves, your capabilities and your operations on your homepage. They simply won't do so and will just leave your website in search of something better.
2. Strengthening The Positive Image
Nowadays internet users are far less tolerant to low-quality, unattractive and inconvenient websites. Poorly designed and structured source will likely make your visitors think that your company either doesn't care about its image or doesn't thrive to attract and keep customers. Website today is the key aspect of the marketing strategy for most companies. The brand that looks unconvincing online leaves an indelible and highly negative impression in your visitors' opinion.
3. Encouraging A Visitor To Act As You Wish
If a visitor of a website believes that you can satisfy his or her needs, you must ensure that their further exploration of your source is as simple and intuitive as possible. You shall encourage them to go deeper into the website structure, so that they would make the next step towards cooperating with your company. Don't let your visitors doubt or think too much, otherwise they'll just leave your website.
Conversion As It Is: Transformation Of The Home Page
There are a number of actions that a visitor may take while on your home page. All of them can be analyzed. You need to assess, what changes to the home page affect the conversion. Here is an example of parameters that you shall analyze in order to understand the efficiency of your homepage.
1. Visited Another Page
This is one of the most important options available to most internet sources. Normally visitors click one of main links or a graphic element displayed on the home page in order to go deeper into the website structure. At that, however surprising it may sound, normally a visitor will not use the menu bar to navigate from your homepage. Many researches had shown that users would rather utilize graphic links provided on pages. We shall make a point that it's particularly relevant to the home page. After transferring to another page, the user will probably decide on using the menu bar.
2. Use The Call For Action
Active button or any other clickable element located in top or bottom part of the page highly motivate your visitor to take a closer look at your website. Make sure that "call for action" elements of your site are highly visible. Make them so! If you wish, you may use some of the following "baits".
3. Completed Registration
Registration forms are offered on many websites. They're particularly useful if you want to attract a new customer in the shortest possible time. Use this feature, but make sure that your form is not too extensive. Remember, you want to win your client over as soon as possible. Detailed forms will surely prevent such thing from happening.
4. Watched The Video
Video content becomes more and more significant for businesses, as it encourages easier communication with website visitors (as compared to extensive text content). Any video posted on the home page shall be as brief as possible, while being tempting. Since watching the video doesn't push your visitor to any action, make sure that your video contains the necessary information that encourages a person to take a particular action on the webpage after watching it.
5. Read Text Content
While this aspect is often overviewed as a key conversion action, it has its meaning. Using web analytics tools you can find out how long on average visitors stay on a particular page. This helps you to figure out how interested they are with the content provided. If it is less than 10 seconds, this means the page or the site had raised no interest whatsoever. However, shall your visitors stay longer, this means that they've found something attractive on the page, and therefore it's likely that they'll be willing to work with you.
5 Golden Rules Of Web Design Worth Reminding
All topics that we've covered above were directly related to website conversion. However, here are a number of other aspects of upmost importance, which presence on your home page can ensure traffic and increase conversion. You probably know about them, however, as people say, practice makes perfect.
1. Using Banners And Sliders
Try to avoid the temptation to use sliders on the home page (like numerous consecutive photos). They're great to show lots of information, however they lack in efficiency when it comes to customer engagement unlike simple banners and well-designed messages. If you want to use animation nevertheless, simply take one static image and animate text or another secondary image that will be displayed on the background. Make sure that your key premise, main banner or message correlate with visitors' needs.
2. Readability
Present your information in such a way that your visitors could easily comprehend it. This provides, among other things, for the use of user-friendly styles and font sizes. Don't forget about the contrast as well – a person shall not be forced to squint to be able to read the text. Anything that prevents a person from gaining awareness with respect to your information will simply force them away from your website.
3. Proper SEO Tags
Search engines like it when information is well structured. This helps them to understand, what is your website about. If you wish to find your site ranked higher in the results provided by search engines, you shall make sure that your website's content is properly structured. At the very least your tests must include H1 tags. It's the most important element for any search engine. Keep in mind that there should be only one header of such format per page. Using this tag on your home page is overall sufficient. However, if possible, it shall also include such keywords and phrases that correspond with your company's business and help users to find your website by entering various requests into the search bar. Using H2 tags can also be very helpful. They represent a subset to H1 tags and help search engines to better identify information provided under the H1 header.
4. Proper Navigation
Navigation is the most important tool that people will use while browsing your website. While it is not so significant for the home page, as we've discussed above in our considerations on using menus on a home page, it is a mandatory tool for all pages of your source. Make sure that this element is well visible, understandable and convenient to use. If you use drop-down menus, make sure that all of their items are clearly distinguishable, and that lists correspond with headers of menu sections. Some websites use several menus in their header. Try to avoid it, as extensive menus with long lists mostly confuse your visitors.
5. Proper Title And Meta Description
While your audience doesn't see these elements, they're still very important for any web source, as they're shown in search results provided by search engines. Besides, search engines use these descriptions as a primary source to understand the nature of information provided on the website. Meta description doesn't affect your source's position in the search engine's ranking, however it allows you to provide key information about your company, product or service to users, therefore encouraging them to click on a link to your website from search results.
Examples Of Home Pages With Stellar Conversion
There are numerous high-quality websites online that have all-around stellar homepages. We merely suggest a few examples of home pages to sources that can clearly be considered as highly conversable.
Exact Target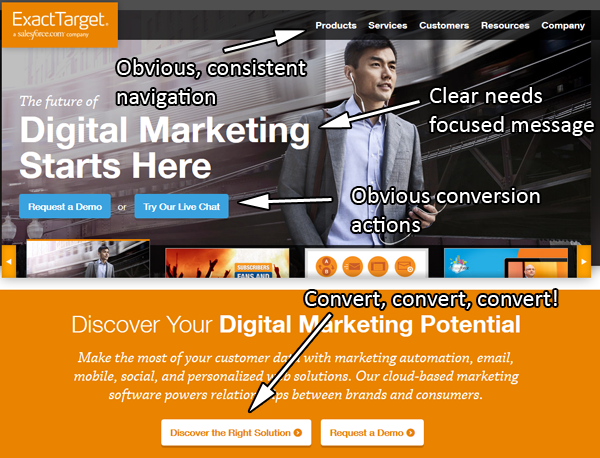 Exact Target specializes on marketing solutions for B2B and B2C automations. This home page is perfectly clear and motivates its audience to act, as well as accentuates the issues the company resolves. Home page includes the clear and consistent menu, which defines stellar navigation. It also features a clear call to solving a particular problem: "Digital marketing starts here". There are also strongly pronounced elements of the conversion chain, represented by "Request a Demo", "Try our Live Chat" and other buttons.
Mixbook is the online-commerce website that offers various options for scrapbooking, postcards and photo albums. Their website is clearly positioned for returning customers. We've seen such formats for homepage designs before, and this website is a perfect example of a really well-built online store. Information about promotion campaigns is clearly stated in the header. Highly visible conversion button and temporary clipart to encourage sales are present as well.
Zendesk had always had a home page positioned for conversion. The "Get started" button that encourages action is placed at the top of the page within the menu section. Information on company services is provided clearly: "Customer satisfaction never been easier". The "Try Zendesk Free" button is also provided, which helps to multiply the conversion.
Final Thoughts
While everything stated above is true, one shall pick proper tools for each particular situation, which will ensure great conversion of your website. However, something that greatly helps one source to be successful might not be the best solution for another. Just keep it in mind.