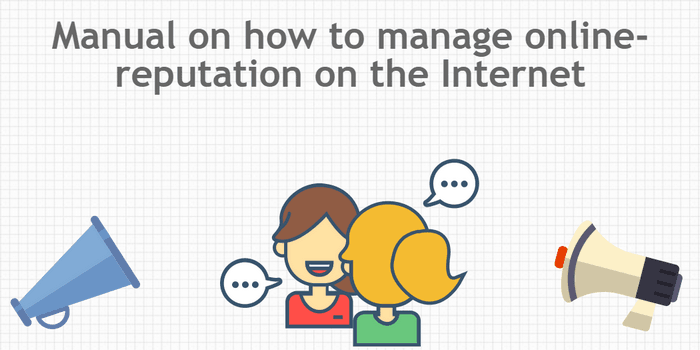 No matter how big or small your business is - it still needs reputation. To keepit at high level, you have to monitor feedbacks left by Internet users. In the vast majority of cases, there are some simple rules that you'd better follow to make your brand recognizable.
Why Is It Important To Control Your Web-reputation?
If you don't pay enough attention to what people are saying about your company on the Internet, it can badly influence your future career. In this day and age, when technologies never stop evolving, there is a handful of pitfalls that you should avoid:
The disgraceful mistakes of past – either yours or your colleagues. This world has seen many cases when the decisions or stories that took place 20 years ago crushed human lives. Specifically, the main reason behind this was the lack of rightly-timed reaction at that period.
Unsatisfied clients. Despite the fact that you have done everything to please the needs of your clients, there is still some portion of risk that their expectations would not be met. If this happens, the Internet will see some negative reviews of your services.
Employees that were fired. If you cut someone or terminate the contract, it can induce your old employees to take revenge on you.
Unfair competition. Every experienced entrepreneur is more than familiar with fake articles and reviews, the main point of which is to discredit the image of your brand. As the Internet proliferates, these dirty tricks are now being played on a daily basis.
Trolls. Sometimes, it happens that people start retailing just for the sake of retailing. There isn't even a single thought about the burden of responsibility that they take.
Quick reaction is the only key when it comes to dealing with fake negativity on the Internet. Before everything, you need to know what your potential clients see when they go online to learn something about your company. Are there any web-resources that spread fake information about your business? Is the first page of Google overfilled with your attainments and successful stories? Is the information that people see too out-of-date? Remember that knowing everything about the factors like these is tremendously crucial. As long as the answers to these questions are satisfactory enough, your business will be prospering.
If you don't control your business on the Internet, that automatically implies that someone does it for you. Fake feedbacks, terrible reviews and articles discrediting your business – things that don't help your company grow and develop. Managing the image of your company online isn't an embarrassing thing to do – it is just the way to protect your enterprise from fakeness and unfair competition.
Who Can Be Possibly Interested In Your Reputation?
Information regarding your brand can turn out to be interesting for many groups of people. If you are rendering some services, selling commodities, looking for experienced experts or promoting; sooner or later, users will want to go online and learn something about you. Most often, these are the following people:
Consumers

Potential partners

Shareholders

Marketing developers

Journalists

Employers

Colleagues

People willing to get in touch privately
How Does Negative Online-reputation Impact Your Business?
One of the obvious outcomes of bad reputation is an extreme downturn of sales and profit. If consumers see something bad related to your company, they will start doubting the quality of your services. In turn, this situation will be highly advantageous for your competitors who are desperately waiting for you to mess up.
However, it can be even worse than that. What if you get sued? This will undoubtedly take your time out of managing the business to dealing with lawyers and courts. Even if the whole thing ends well for you, it will still leave a memorable scratch on your reputation.
If you figure out who is predominantly responsible for the proliferation of fake content about your brand, it will be much easier to deal with alike problems in future.
How To Evaluate Your Reputation?
The vast majority of people are only paying attention to the first two pages of Google results. That's why it will be more than enough to collect 20-30 enquires that are linked to your keywords. Start with some easy stuff. Go ahead and use Google or Yandex:
Your name

The name of your company

The name of your brand or label

Products that you sell

Colleagues of a high rank

Well-known achievements
Considering the fact that Google analyzes your requests with respect to your location and previous searches, the results may not unveil the real position of things. To get more accurate results, you have to log off your accounts and clear your search history.
Having conducted the research, collect all the data you have found and place it into table. It's important to determine how many positive, negative, neutral, or relevant results you have encountered. These figures will tell you whether it's worthwhile to work on your reputation or not.
Potential Problems
If you see that more than 10 results found on Google are not telling a word about your company, you have to start improving your online-reputation. Apparently, for some it can pose no problems at all, but keep in mind that competitors will take advantage out of that.
The only possible exception is when the name of yours or your business matches some sort of celebrity of world's famous brand. As long as you don't have any strategy, it will be truly difficult to make people talk about your business – not to mention being on the first page of Google. Nevertheless, users will still be looking for your brand, so you have to facilitate their search. Searching criteria must be overfilled with all the factors that are linked to your company: name, location, products or any other relevant information.
Hidden Problems
If search contains neutral results, you will still need to work on your online-reputation. When consumers, potential partners or media are looking for you on the Internet, they won't find any positive information.
Which of the following things happen to be under your control? Your websites, social media accounts or local forums. The more alike sources you keepan eye on, the better reputation you will have. Needless to say, the most important thing is that you work hard on your content, but having as many web-resources as possible isn't a bad way to improve your online-reputation as well.
Apparent Problems
If someone writes negative reviews or posts fake articles, it means that your business activity is moving in the wrong direction. Try to fix it by any means possible. Think of how you can make people change their opinions of your business.
There are some possible problems linked with managing online-reputation (listed from the least meaningful to the most important):
User name squatting

Domain squatting

Doubles

Occupation change

Name change

Negative comments

Fictive information

Fake profiles

Violation of rules governing the usage of trademarks

Negative mentioning in the news

Legal claims

Websites with complaints

Competitors' attack

Websites with haters

Corporate scandals

Industrial perceptions
Unfortunately, it happens to be quite difficult to deal with these problems, but still manageable. In such cases, it's highly recommended to hire real professionals to get work done for you.
How To Create And Maintain Online-reputation
To make sure that your online-reputation remains at high level, you can make use of the following steps:
Step1. Defend Your Name
The first step on your way to establish an outstanding reputation is to register your firm. Buy all the appropriate domains and create yourself an account in the most popular social medias:
Facebook

Twitter

LinkedIn

YouTube

Google+
This list doesn't happen to be an exhaustive, it's ever-evolving. Some resources stay at the top, while others come and go. The best advice would be to register in every social network – this is a great way to widen your influence and capture as many potential clients as possible.
Step2. Don't Forget About Confidentiality
After you have registered some profiles, the time has come to secure their safety. On private accounts, you have the ability to set your confidentiality the way you want. Many cases have proven that dirty comments or photos of drunk friends aren't good for promotional campaign. The vast majority of users don't have a single clue how their profiles are indexed and who can view them.
Make sure you understand the way indexation works. Set it the way that suits you the best.
Step3. Track What People Are Writing About You
One of the most vital components of successful online-reputation is paying attention to the opinions of your clients. You have to be aware of everything that has something to do with your brand: media, social networks, articles and reviews.
There is a handful of web-resources that would ease this task. For instance, you can use Google Alerts that allow tracking search requests, publications, videos or blogs. Twitter Search provides you with an accurate information regarding keywords, dates, locations and other parameters.
If someone asks questions relevant to your products, brand or general activity, you can see them on Q&A websites. The following resources are the most popular among them:
Yahoo! Answers

Quora

answer.com
Aside from this, there are many other programs or apps that help tracking information you need.
Step4. Interact With Others
Now, when everything is settled, you can start communicating with your potential clients. In addition to strengthening your online-reputation, constant mentions will improve your search rankings.
Create professional and private contacts. Find some colleagues, employees, partners and friends. Take an active part in conversations and regularly update your business status. Do it wherever you find appropriate: professional networks, social platforms or corporate websites. Create podcasts, publish articles in business blogs and make appearances on business meetings. The more you socialize and interact with others, the better it is for your future thrift.
Step5. Just Be Available
The vast majority of problems emerge on the grounds of inaccessibility. Many potential clients are just unable to get in touch with you, because of absence of contact details. If this is the case, you'd better fix it. Make it publicly known that everyone can reach you through the means of Twitter. It's extremely important that you mention the time-frame when people can expect to receive an answer from you. Provide a selection of ways your partners can reach you. Some don't like using phone, while others are unfamiliar with emails. Think every communicational channel through – make sure people have the privilege of choice.
If you don't have enough resources for special call-centers, just create a simple website. Remember to pay attention to the feedbacks you receive. Take them into account and enhance the quality of your services.
Step6. Create Your Own Negative Resources
It can be your last chance to convince users who left dissatisfied with your products to stay loyal to your brand. Moreover, you will see what areas of your company have to be improved. It's the priceless information that very few corporations have an access to.
Another reason to create such resource is to show clients the range of possible alternatives. If they find nothing suitable, you can offer them to check out the services of your partners.
Step7. Build Trustworthy Relationships
If you have already received some positive feedbacks, you can publish them on your website. As new reviews appear, add them to your collection – show people that you appreciate their stand points. A good idea would be to attract some famous reviewers to evaluate your products and make regular posts.
Step8. React To Criticism
As soon as you see first negative feedbacks regarding you or your company, you will have to react immediately. If some people are really dissatisfied with the quality of your service, you have to contact them and do your best to solve the problem. Don't try to explain yourself, just apologize and do everything to make your client feel better. You can make a refund or send free products.
However, if this an ordinary troll, you'd better pay no attention to him. Depending on the circumstances, you can adapt two types of behavior:
Determine the purpose of the website where negative feedbacks are published. Is this a review-website or troll-place? Don't rush into conclusions or start a conflict – just monitor.

If it's a fake account, you can provide true facts that defend your company. In case with real customers, you have to apologize and give a refund.
If only you face serious problems in the field of online-reputation, you'd better hire an experienced professional. Keep in mind that the future of yours and your brand is predominantly depended on your desire to be the best in your industry.