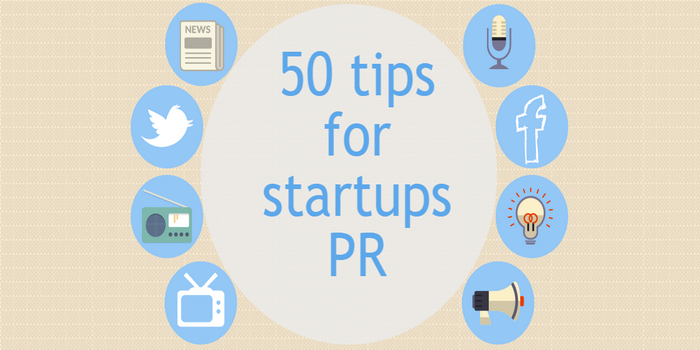 How can a novice businessman make a statement and get caught in the media lens? Access to media space means a lot for any startup. Positive reviews about a project that is merely starting can with luck attract investors to it.
Novice businessman and his team shall assist promotion of their project in media space in every possible way. Such a task is not so easy – according to statistics, the number of PR professionals is nowadays nearly close to the number of journalists. Such highly competitive environment requires that one makes no mistakes and persistently pursues one's goal.
Below we provide 50 useful tips from Chrystal Richards, the PR professional of the Onboardly, the Canadian marketing agency. They should help novices stay on track.
Novice businessman shall adopt the major PR rule: there are never too many friends. And it is important to make them before their assistance becomes needed in a harsh situation.
Don't let a single useful contact slip by. Information about possibly useful people shall be stored in a way that it can be retrieved fast and easy.
People are always willing to provide you with a counter service. If someone asks you for help, don't look for a reason to deny it: once you might need a help of this person yourself.
When talking to businessmen it is important to value the others' time and to state your ideas clearly and intelligibly. It's highly unlikely that they have time to listen to long introductions and to maintain small talk.
Readers are intrigued with questions; the latter force them to look for some small miracle within the message. Psychologists claim that the addressees open letters that contain a question in their subject line more frequently.
People value informal communications. It is important to learn making useful contacts on a friendly level.
Nobody knows, when he or she gets a chance to talk business with an interested person. You shall be able to clearly state specific offers and avoid meaningless phrases like "why don't we talk about it by the end of the month?"
It is a good idea to make a statement about yourself and your business on Twitter. Journalists (and not only them) constantly quite Twitter, and the social network allows for unobtrusive networking with the right people.
It's not always good to be eloquious and magniloquent. Media representatives don't appreciate it when someone overstates the importance of his or her project, trying to "sell" it to journalists. It's much more effective to be honest with media persons and to speak pithily with them.
When creating a pitch it is important to see it through your audience's eyes. People will be far more interested in a presentation if they can learn something useful from it.
The one who owns information, owns the world. Numbers, facts, and statistics will demonstrate your project's advantages far better than just a parade of words. This is the core to create an attractive pitch.
People want to buy a story rather than a specific product. It is important to focus your attention on the reasons the product is needed on the market, why the team that creates it is better suited for the task.
Information about the project shall always be circulating in the media space. Pitches shall appear regularly, month after month. You shall plan topics for your messages and presentations in advance in order not to miss out on anything important.
Each informative message requires critical review and analysis. If you have any doubts – that shall be the first sign that the information is not that good and that it probably won't raise interest among the audience.
Audience likes to listen to thought shapers. Use a writer's column or a blog to create such an image for yourself, and it will become much easier to draw attention to your project.
Journalists are people as well. They value live communications more than bare press-releases distributed by fax or e-mail.
Information must be current. It is important to inform the media space in advance about facts and events related to the startup.
People are willing to share their opinion whenever they're asked to. Others' opinions about the project is a great source of information that the beginner entrepreneur may turn to his or her favor.
Project-related people shall provide as much useful information about it as possible. It is quite possible that such "aid" will attract media interest in the future, and they'll use such information as a source for their publications.
The bare nature of the PR is establishing people relations. It is important to do so while having a long-term perspective in mind, because those journalists that were loyal once may provide the company with priceless services.
Importance of niche media is often underappreciated. However the companies that target a specific segment shall consider those the best way to address their target audiences.
PR is not a one-man job. Entire team shall put their efforts towards public relations, as every team member may become an author of a topic that will be worthy of media coverage.
Striking, intriguing and truthful stories told passionately catch the most attention of the audience. Project founders shall be capable to talk about their company in such a way.
All in good measure: when creating a press-release or a pitch, it is important to remember about the rule of Three: each statement shall be supported with three confirming arguments (facts, examples). That shall be sufficient.
Each message entering the media space shall be assessed based on the audience reaction to it. This way you can distinguish those media sources that give the maximum effect.
Reading the media is a good school to learn the basics of creating titles and perfecting your own style. Being able to express your ideas clearly and powerfully in writing attracts the audience.
It is important to not only write informative messages, but also read your writing out loud. Actual sound of the word is perceived sharper and allows you to understand if your text is actually "humanly" written.
Grammar is of upmost importance. Try reading your text backwards – when the meaning of the message is lost, textual errors become more apparent.
If a company has something to tell about itself, it shall use such opportunity. You can send a message to a journalist via Twitter. In the United States, for example, there is a special network, HARO (Help a Reporter Out), which brings together representatives of media and business circles, who are interested in mutually beneficial cooperation.
Competition doesn't have to be all evil. Sometimes competing companies can join their efforts to draw more attention to their industry.
Pictures represent a project's story. Good photos of a product being created and a team working on it may once become an invaluable piece of history.
Main trick in creating news is an ability to see them under the right angle. This way your news story will be intriguing without losing its veracity.
Publicity is not the end goal of the PR. It's much more important to be able to plan, to develop a strategy and to stick to it.
Every step in startup promotion must be analyzed. Otherwise it is impossible to build a successful campaign.
Journalists tend to pay less attention to press releases.
PR actions always have a response. The team shall be ready to receive an inversed opposition and extensively violent reaction from social media.
PR is not a free treat. Building a campaign requires time and effort, to say the least. But these investments are well worth it.
If a company decides to share the exclusive information, it is important to find a media that really deserves such a story.
Presentations don't have to be held in the company's office. It is quite possible that team members may come up with new ideas in a new place.
Failure is merely a reason to analyze the situation. Proper conclusions can turn "no" into "yes" in the future.
E-mail is not the only way to contact a journalist. You can also send them InMail messages on LinkedIn. This function is available for all premium account holders.
The need to give an interview or a comment shall never catch a beginner businessman unprepared. It is important to not only offer news to media, but to be ready to provide as much details as possible.
When planning to launch a project, the team shall be 200% convinced in its readiness to face the audience. It's better to postpone the launch than to offer a "raw" product or website to the public.
Company executive must be able to talk. It is his words that can make the project story sound the most interesting and convincing.
When creating pitches, pursue quality rather than quantity. It's better to create a few good posts than a dozen of meaningless messages that everyone will slur over.
Don't keep pulling the journalist's hair. After you submit a publication, give it at least three business days before reminding about yourself. Even if your pitch is very important, never wait less than 24 hours before contacting a person again.
Media loves numbers. Therefore the most important numbers in relation to the project (launch date, profit, traffic, etc.) shall be learned by heart.
When working on the pitch, it requires 100% team effort. However, never send your materials to a journalist during off-business hours, as nobody enjoys seeing an overflown mailbox in the morning.
It's best to post product-related messages on social media during business hours. That's when media representatives are usually online an have a higher chance of noticing the published news in a timely manner.
Like the world itself, PR never rests in one place. Beginner businessman shall be able to quickly grasp on new ideas, try them, assess, and fix the results gained.