So What Is SEO?
Someone says that this is a painstaking and systematic work to promote the website on the Internet, someone says that it is a fiction created by SEO-agencies which manipulate to spend your budget. In any case, let's try to clarify these statements.
SEO is an activity to increase the quantity and quality of traffic that you get from the organic results in search engines such as Google, Yandex, Yahoo and Bing.
In a modern world, when the Internet began to be practically present in all the aspects of our life, the presence in the global network, especially for commercial organizations is vitally necessary.
By understanding the scale and dynamics of the Internet, we can conclude that those days when you could advertise in a directory or a newspaper and wait for orders from the phone are gone.
Now, thanks to the Internet search you can find almost any product or service.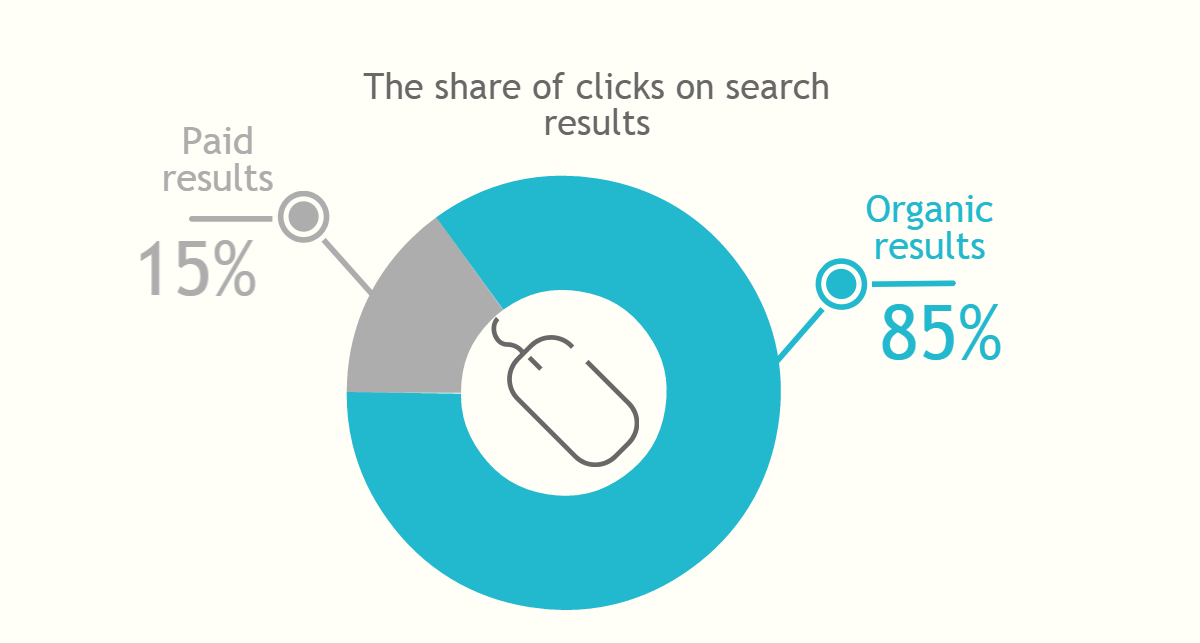 According to Encuiro, 85% of users click on natural search results; 4 of the uppermost paid positions are equivalent (by appearance and number of clicks) to positions 7-10 in natural results.
It means that if you need to calculate the cost of the promotion, the natural search can be two or three times more valuable than paid results!
It is quite obvious that the option of paid search is more intuitive, because it looks more like a model of direct marketing, that's why it is easier to track the return on investment than in case of search engine optimization.
However, as the advertising expenses are cut, the value of search engine optimization is notably increased.
Now we will look at what is the value of search engine optimization for promoting your website:
First, let's see how far the users get in search results.
According to researches, users typically do not seek information further than the 3d page in the search results.
Data on the number of clicks depending on the position in search results on the first page speaks for itself.
We can see that the majority of clicks fall on the first results of the webpage.
Another interesting fact is that:
Conclusion:
Based on these data, we consider that you will not have no doubt about the need to deal with optimization of your website to improve its positions in search results, as it directly affects the quality and quantity of traffic which in turns affects the profitability of your business.