According to the survey conducted by Google in 2014, 96% of adults are currently using emails. What is more, 56% of those people have chosen Gmail as their favorite platform.
Keeping this in mind, you can easily make use of Gmail Ads to reach your Internet audience and offer some of your services. All the ads are seen in the section called "Promotions" in Gmail. These commercials will be presented in the form of ordinary messages that people get on their mails. Just like regular emails, users are able to click on the heading to see the whole message.
In the example below, you can see the teaser that was created for the company called "Zulily". At the very beginning, this company based all of its Internet promotion on Facebook, but now it redirected it here – on Gmail. Typically, teasers are promoting 70% of dresses; if users click on the teaser itself, they are able to see the remaining collection of fashion items. Aside from this, users can mark messages as "important" and study them later in depth.
More About Gmail Ads
Pay attention to the fact that Google has certain requirements that have to be followed if you want to promote your company through the services of Gmail. Also, commercials have to meet the criteria of Google AdWords.
How to Create Gmail Ads
To begin with, we have to establish that by creating an advert, you are choosing the option "Display Network only". This option implies that your ad will be used by the partners of Google as well.
Having chosen your marketing goals, you can progress to creating the ad itself. Obviously, you can make use of existing templates. To do this, you have to press "Ad Gallery" first and "Gmail Ads" then. Compressed ads have limited number of available symbols. In spite of this, you have a lot of space for creativity. The advert may be expanded to the size of 600 x 1000 pixels. It can include images, banners or videos. Gmail makes it possible for it to even contain a special button that would allow immediate phone calls.
Considering this type of environment, you would definitely want to constantly upgrade your ads. Based on your potential audience, you can create ads that would meet their predominant requests. Gmail Ads for strangers have to completely differ from the one aimed at your own audience.
Requirements For Ads
| | | |
| --- | --- | --- |
| Field | The number of symbols | Content |
| Advertiser | 15 | The name of a company or domain |
| Topic | 25 | The teaser or any sort of commercial info |
| Description | 100 | Compressed version of enquiry and CTA (Call to Action) |
| URL | 32 | Short URL of commercial domain |
| URL of a landing page | Without restrictions | The position of a landing page |
| Image | | Logo or image (size 144 x 144 pixels) |
Compressed Ads
In compressed ads, the best idea would be to induce your readers to take actions. For instance, "Buy know and get a 20% discount". Apart from this, you may include any relevant information as well – bonuses, special offers or discounts.
Depending on the "face" of your audience, you may create «tailored message» — these ads allow you to offer potential customers certain goods that are relevant to their previous purchases. Apparently, it is quite vital to force readers to become interested in whatever service you are promoting. Think of new ways of attracting public attention.
Google makes it obligatory to mention only valid names and URLs. If your domain or landing page stop working, your ads will be turned down until you fix all the problems.
Expanded Ads
Expanded ads are typically of the size 600 x 1000 pixels. They may be depicted on either one page or two. At the same time, it has to incorporate at least one image.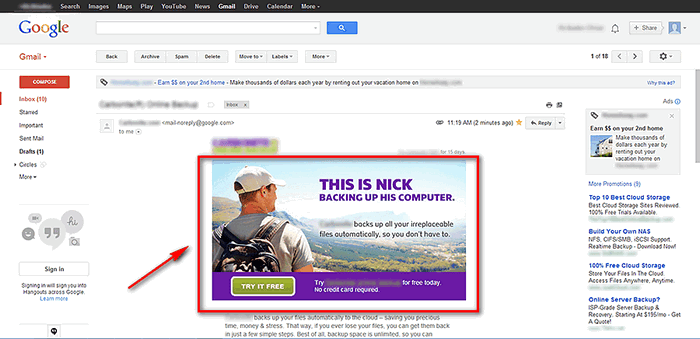 Don't forget about the users of mobile devices. Without a doubt, you want your ads to be adapted for tablets and phones. The vast majority of Internet users are constantly using their phones to check Gmail. This automatically implies another group of potential customers.
Unfortunately, your ad can't contain HTML5, JavaScript, audio or animation. Due to the matter of security, Google has pretty strict rules concerning the usage of HTML.
Targeting
Gmail clients may get into the same type of targeting as in another commercial forms of Google Display Network. In particular, they can apply specific criteria, on which the process of targeting will be based:
Age.

Gender.

Language.

Device used to go online.

Topics.

Keyword.

Domain.
In most cases, the behavior of users coming from Gmail Ad and Display is very alike. These users are known for not taking too much of action, which results in the location on the highest segment of the "conversional funnel".
Most of targeting criteria used in Display are also available in Gmail. One of the most proliferated mistakes made by the advertisers is not paying enough attention to the "deep targeting". You have to realize that commercials are an incredibly effective and powerful tool if used properly. Remember that deep targeting is the only key to get new customers; if you keep on doing this, it's more likely that you will meet the demand of Internet audience.
Let's come back to the example with "Zulily" for a second. This company can set up its advertising campaign the way that it would attract everyone interested in women's clothing. Nevertheless, it would be much cleverer if "Zulily" created separate approaches for different age groups. It's highly possible that ads which work for old women will not be interesting for a young generation.
If you want to get targeting with respect to domains, you have to include certain information in specific fields with keywords. This method will allow you get targeting on the websites that sell alike commodities. For instance, if you sell cases for phones, it would make perfect sense to get targeting on the Internet shops for mobile devices.
Sales
If you set up targeting within Gmail, you are paying the typical price for a single click (CPC). Evidently, you would have to conduct your own research and determine every piece of pricing for yourself. Also, study the option of Conversion Optimizer. You only pay when people click on teasers to expand them. At the same time, you don't have to pay for any additional moves. For example, if your teaser is marked as "important".
The Main Aims Of CPA
CPA – is a cost per action.
The same analogy applies here – study all the possible options and don't forget about Conversion Optimizer. This will help you reach desirable goals and make your advertising campaign successful. Specifically, this is tremendously actual for the users of mobile devices (they look for completely different things, rather the users of computers). If you decide to set up targeting for mobile devices, make sure your website is adapted for alternative usages (tablets, phones).