After clicking the ad and transferring to your website's landing page, the use shall find it interesting. If this doesn't happen, the quality of your landing page leaves a lot to be desired. Read this article to learn more about why it is so important to create a really professional landing page, how to do it, and what mistakes to avoid.
Why Is Quality So Important?
First of all, landing page's success with is audience is positively related to users' desire to register in your system, subscribe to a newsletter, and eventually to buy your product or service. Therefore it directly affects the website's conversion.
Secondly, poorly made, dull, or worse of all troublesome landing page means wasted advertising money and idle expectations of when your site will start generating profit.
Therefore it is essential to activate all available tools to make your landing page as effective as possible.
Increasing the quality of a landing page: basic rules.
Google, like other search engines, provides an extensive list of recommendations and requirements aimed to improve of their users' landing pages so that they would be competitive. The following aspects are worth emphasizing.
• Relevant, Informative, Unique Content
Every visitor of a landing page must find information that correlates with the ad that lead to it. The landing page must contain the most extensive and clear information about a product/service that you advertise.
Text of the landing page must be unique (i.e. it shall not repeat an article form another website word to word) and shall be constructed in accordance with basic SEO rules for content (use of headers and sub-headers, lists, keywords of medium and high frequency, images and videos, etc.). Content must also be useful for website visitors.
Also pay attention to the following aspects:
1. Keywords In Page Title
2. Keywords In (H1) Header Of The Page
3. Keywords In The Ad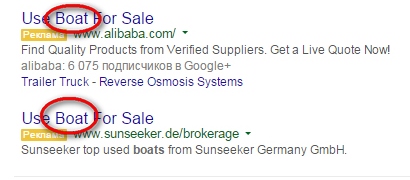 These are important issues that must be taken into consideration when creating a landing page.
• Transparency
Contact information must be as obvious as possible. Make sure to publish details about your firm and its business.
Ads, advertising links shall be distinguishable from the overall design. When requesting personal data from your users, make sure you first explain to them, why is it necessary.
• User-friendly And Intuitive Navigation
Pay attention that all information is logically divided between sections. If a person can't find an answer to his or her question within a minute, they'll leave your website.
Use functional buttons to quickly go to the product order section. Don't distract potential customers with annoying popups suggesting help or extensive registration forms that will interfere with their insight into your company.
• Fast Page Loading Speed
Search engines pay close attention to all aspects of quality of landing pages, including the criteria above. And if your landing page happens to "drag feet" at loading, it will quickly decrease your ad's rating and overall page ranking as well.
Therefore make sue your source loads up fast both on a PC and a on mobile phone. Ideally you should make a special app for a smartphone. All sections of your site shall load this fast as well.
Try using PageSpeed Insights to evaluate your landing page capacity within Google.
Few More Advices To Consider With Regards Of Your Landing Page:
Provide your e-mail address, legal address, location, details of legal paperwork, etc. along with contact phone numbers;

Don't use images and video that are copyright protected. Or at least make sure you mention the author.

Only require such personal data from users that is reasonably necessary. Otherwise they'll be cautious about you.

Only make promises that you can fulfill. Be careful using adjectives in superlative form. Clients don't like when you fall short of their expectations.

Order rework of a standard layout and original design for your landing page.

Collect and publish actual user reviews about your product/service/company.

Don't use services that change links to landing pages.
When A Landing Page Is Doomed For Failure
Search engine advertising systems (Google AdWords and other) require that advertising materials shall conform to the legislation. In particular:
They shall not contain obscenities or simply offensive words and phrases, any symbols that are calumnious and may humiliate honor and dignity of other people or a country. Also they shall not contain calls for violence, illegal activities, etc.

They shall only provide truthful information about a product/service/company.

As for landing pages and overall websites, the following sources may find themselves having big troubles:

That sell products, which are originally free (such as freeware available on its author's site), or those products that are infringing.

That offer software hacking.

That spread viruses and other malware.

That advertise intimate services.

That offer "get rich quick" schemes.

That contain misrepresentations regarding payment for goods and services; that install some plugins or options on users' PCs and mobile phones without them being aware and willing to do so; and so on.
Evaluation Of The Landing Page Quality
Every search engine regularly monitors landing pages and ranks them one way or another. The quality level is assessed as "average" or "above average" (satisfactory), or as "below average" (improvements are needed). You can learn this information about your source on the "Keywords" tab on the Google Adwords' administration panel. When the system reassesses the quality of the landing page (for instance, when its rating is growing), statistics of the account itself will change within a few days/weeks.
If your source violates any of the rules listed in the previous section, the message will appear next to keywords on the administration panel that your site has been blocked, and the landing page's status will be highlighted as "inapplicable". Therefore, your website will not be advertised in the system.